The Power of Pink, More Than Meets the Eye
One of the things I love about October is that it is Breast Cancer Awareness month. (I should clarify, I hate that we have to have a month for it, but I am so happy that so many organizations use this time of year to raise money and heighten awareness in order to eliminate the disease.) For those of us affected by this disease, we are reminded
—
although we never forget
—
about the people we love who have, or had, to battle against the number two killer of women.
For me, it is personal. I lost my grandmother to breast cancer and it was one of the most difficult and gut-wrenching experiences of my life.
I was thrilled when
Jumpstart Designs
released the kit,
Power of Pink
. It is whimsical, with a dash of humor. It is a kit filled with everything you would need to create scrapbook pages paying homage to the women you love. There are no pastel pinks in this kit. It has a bold touch, which speaks to the spirit women possess when they are forced to fight against breast cancer. It celebrates life! You cannot help but feel happy when you create pages with this kit.
More Than Meets the Eye
The Power of Pink kit is so much more than breast cancer pages. I asked friends and family to come up with other ways you can use this kit. First off, it is not just scrapbook pages. These are digital elements, so you can use them for card making, hybrid projects, blog design, newsletters, invitations
—
essentially, any design work you are doing, this kit probably has something you can use. It is a color palette of vibrant pinks, accented with shades of grays, greens and blacks. You can create scrapbook layouts celebrating summer fun, girls' night out, anything little girls, gardens, weddings, bridal showers, engagements and so much more. (Thank you mom, aunt Patty, Deb and Jennifer for the suggestions!)
If anyone wants to share ideas they have for this kit for, please leave a comment. And if you make a page, or any type of project, with this kit, please leave a link to where you have posted it. You never know when a freebie might be given away. (I really do want to give a gift and this is the perfect blog post to start doing that!)
Money to Cancer Hospital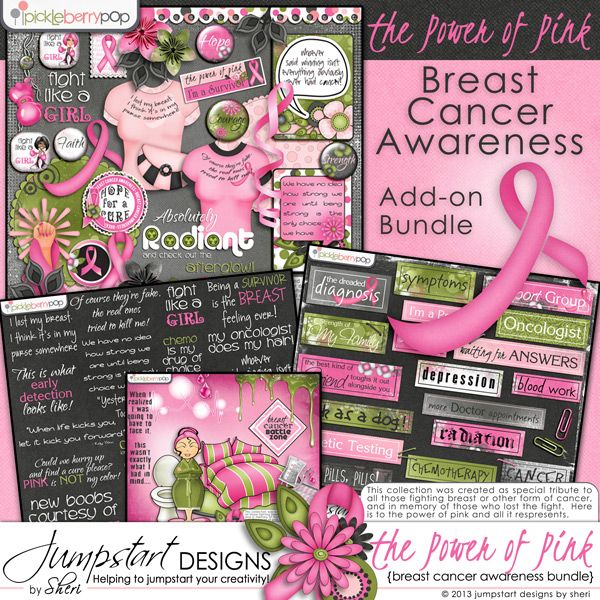 Probably the one fact that makes the Power of Pink kit even better is that proceeds from the sale of this kit will be donated to the
Huntsman Cancer Institute
in Salt Lake City. For those of you who know some of my family's history, you may recall that my husband was diagnosed with prostate cancer several years ago. We were given a grim outlook due to the ramifications of having surgery to remove the cancer. Knowing that there was a better way to handle it, we opted to visit with a doctor at Huntsman. This doctor told us that he had a solution and that Alan would not have to endure extreme procedures to remove the cancer. Sure enough, the cancer is gone with minimal repercussions. We love Huntsman and all they do to help cancer patients and their families.
Scrapbook Layouts
Now, onto the layouts I have made with this kit!
Patti lives in Idaho and is a two-time breast cancer survivor. After all that, she has been battling metastatic disease in her bones for four years. Despite her continuing health challenges, she has a delightful attitude about life. She said to me in an email, "My sons are all adults now and I am so grateful I am watching them as they become wonderful adults." Patti also started an organization called
Drive for the Cure
, an organization that provides breast cancer awareness and free mammograms in Southeast Idaho. Please take a moment to go to the Drive for the Cure Facebook page and "Like" it.
I have known Annette since I was a little kid living in El Paso. My siblings and I used to play with her kids. Then when I was 23 and stayed in Idaho for a few months, Annette let me stay with her family. She is one of the kindest and most generous women I know. (And she introduced me to Reed's Chocolate Milk!) I have always admired her ability to stay positive, no matter what life throws at you. She was diagnosed with breast cancer in 1991. She had a lumpectomy, chemo and radiation treatments, however her cancer came back. She fought it aggressively with a mastectomy, more radiation and chemo. She has since been cancer free.
And here some examples from the Jumpstart Designs Creative Team. This is where you will see some gorgeous examples of what you can create with the Power of Pink kit.